In Part 1, I showed you some dresses that I had tried on and we discussed what I learned about what I like and dislike. Once I had returned home, I scoured the internet for sewing patterns and settled on B5731, a copy of Kate Middleton's wedding dress. Luckily for me, Casey had made her own beautiful wedding dress out of the same pattern and blogged about the process, though I can't find her blog anymore.
I liked the lace overlay and long sleeves, and planned use pale pink silk interlined with sturdy coutil and lined with soft cotton for the bodice. I chose the embroidered silk chiffon below for the lace overlay. For the skirt, I didn't really want pleated satin, and instead pictured something very like Kat's skirt: a layered circle skirt with graduated colours and weights of silk.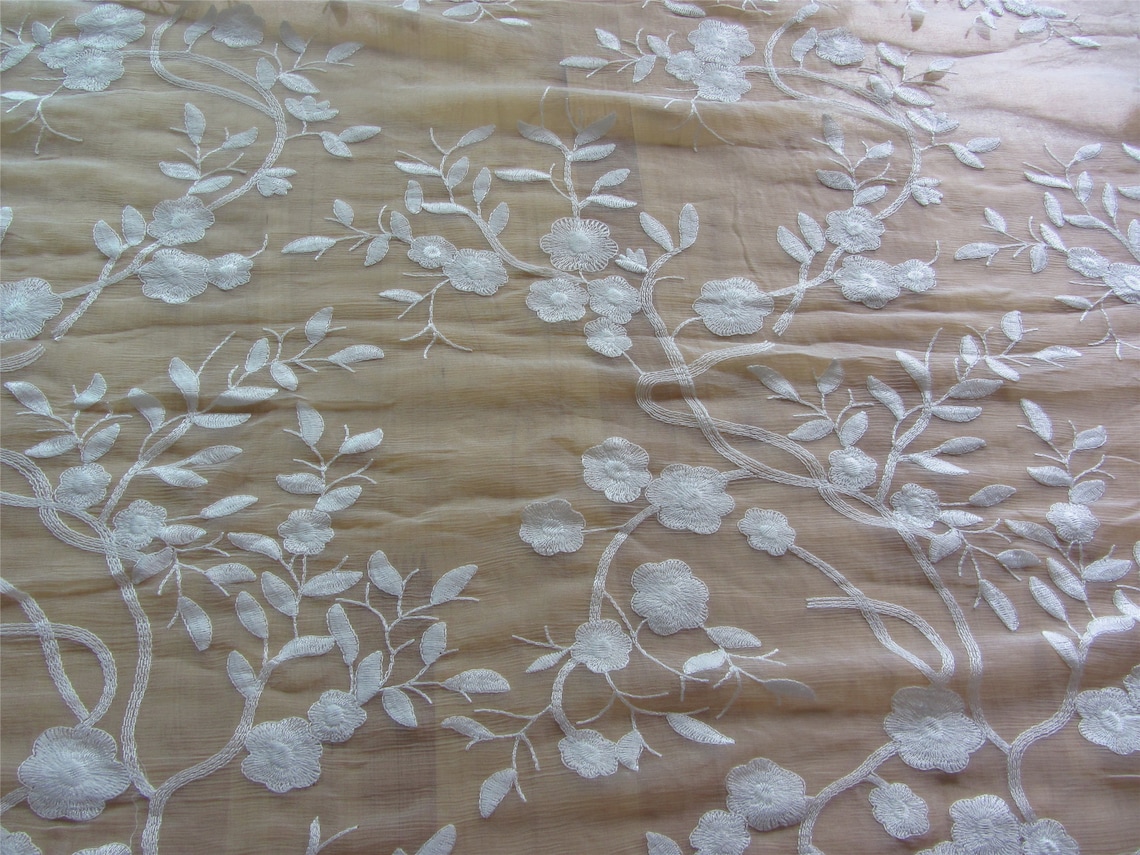 For my mock-ups, I bought around 5 m of cheap cream-coloured polyester crepe at my local Fabricland, as well as coutil, channeling, and spiral steel boning from a bra and corset supply store. I had scraps of pink polyester satin for the bodice outer layer, and Ikea lace curtains from my first apartment to use for the overlay.
I'd never used coutil before. It's so stiff that the bodice stood up on its own!
Here it is on my old dressform, right side out:
It looked nice on its own, but the fit was strange. Somehow it both gaped and compressed my bust in a really unflattering way. After trying variously to take in and let out the seams, I realized that the problem was actually the shape of the princess seams. They're very vertical, pointing up towards the middle of my collarbone. When I compared it to the shape of my bras, I realized that seams that curved laterally would fit better. With a lot of trial and error, I changed the shape of the centre front piece from this:
To this:
Please excuse those terrible schematics, but you get the idea. After that, I started working on a test of lace overlay and the fit at the shoulder was awful. I threw it away when we moved, so I can't show it to you, but it had wrinkles and folds everywhere and I couldn't move my arms. I planned instead to use the armscye and sleeve from this dress, and figured that the skirt would be easy. I've made plenty of full-, half-, and quarter-circle skirts over the years.
All of this was happening, by the way, in February 2020, with a goal of having a full mock-up of the dress by the early April and then the real dress by early May, for the wedding on June 7th.
In the spring, though, things started to change quickly. Restrictions tightened day-by-day in the face of the worsening pandemic. My fiancé and I started to worry that we might find ourselves delaying our marriage indefinitely. A Jewish wedding requires a gathering of four people and at the time, five could meet outdoors. If restrictions tightened further, we would be stuck. One Thursday evening, we decided that if we wanted to be married, we needed to move fast. We called our rabbi and were married that Sunday. In between Thursday evening and Sunday afternoon, I sewed a wedding dress.
I didn't have silk crepe in three different weights. I didn't have a palette of subtle pink dyes. I didn't have embroidered silk chiffon, nor plain chiffon to drape over my head as a veil. Instead, I had my bodice mock-up (by then a patchwork of different scrap fabrics), a small amount of coutil leftover, 5 or so meters of polyester crepe, some lace curtains from Ikea, whatever was in the linen cupboard and my closet, and a hodgepodge of various notions. But that is a story for Part 3!